Welcome to the second half of our anime roundup for April 2022. Here's a comprehensive list of new shows and their accompanying trailers premiering in the spring anime season! 
As mentioned in the previous list, please remember there's no anime debuting on Funimation due to the Funimation/Crunchyroll merger. Funimation will continue to add episodes of current shows, but new series will air exclusively on Crunchyroll.
We will miss Funimation, but as we look to the future, we have everything here you should be watching! 
RELATED: 7 Netflix Animated Series That Have Replaced My Therapist
Tiger & Bunny (Season 2) – April 8
The wait is finally over! After 11 years, season two of Tiger & Bunny is here, friends! In a world where heroes wear sponsorships like racecar drivers and their acts are broadcast on live television, is Veteran hero Kotetsu T. Kaburagi, aka Wild Tiger, is paired with rookie hero Barnaby Brooks Jr. Despite sharing the same powers, the two are opposites regarding their philosophies on being a superhero. Suit up to watch season two on Netflix, starting April 8. 
Love After World Domination – April 8
Not enough hero action for you? This Love After World Domination has you covered with its power couple, Fudo Aikawa and Desumi Magahara. Or should we say "Red Gelato" (the leader of the heroic fighting force Gelato 5) and "Reaper Princess" (a combat force member of the secret evil organization Gekko)! These two are supposed to be enemies, so the public can't know that they're dating no matter what. See if their love will prevail on Crunchyroll, starting April 8. 
Date A Live IV – April 8
Like sci-fi? Fantasy? Haram anime? You can have it all with Date A Live IV! With multiple Spirits now living with him, Shido's act of juggling ladies is never-ending.
On top of that, Spirits arrive for him to put the charm on even more. As he seals more and more, with his intentions unknown to them, will he be able to keep this up, or will it lead to one big, giant spatial quake? You've got a date with this anime on Crunchyroll, starting April 8.
Dance Dance Danseur – April 8 
While we don't have more Yuri On Ice yet, the same studio gives us Dance Dance Danseur! Second-year junior high school student Junpei was fascinated by ballet as a boy. He gave up dancing after his father's death, thinking he had to act more manly until a beautiful transfer student named Miyako appears before him. Fall in love with this anime on Crunchyroll, starting April 8. 
RELATED: New Offical Yuri On Ice Images Reignites Flames In Our Hearts
KAGUYA-SAMA: LOVE IS WAR (Season 3) – April 8
Student Council has brought together Vice President Kaguya Shinomiya and President Miyuki Shirogane. While everyone expects a speedy courtship, they have too much pride to confess their true feelings for one another! Instead, the two remain fully committed to devising a highly cerebral strategy in this cunning love war. Will they confess their feelings to each other? Find out on Crunchyroll, starting April 8! 
SPY x FAMILY – April 9
Secret agent Twilight must undergo his most challenging mission yet—pretending to be a family man. Posing as a loving husband and father, he'll infiltrate an elite school to get close to a high-profile politician. It's the perfect cover, except his wife's a deadly assassin, and neither knows each other's identity. Well, no one but his adopted daughter and telepath. Check out this mind-blowing anime on Crunchyroll, starting April 9. 
Shikimori's Not Just a Cutie – April 9
We hope you have room in your heart for another pink-haired waifu because the ultimate "heartthrob girlfriend" has appeared! Naturally unlucky high school student Izumi's girlfriend is his classmate Shikimori. She's a pretty, cute and loving girlfriend, but when Izumi's in trouble, she becomes a super cool "heartthrob girlfriend"! See for yourself on Crunchyroll, starting April 9. 
In the Heart of Kunoichi Tsubaki – April 9
Living isolated deep in the mountains is Akane Class. These kunoichis work hard together to improve their skills, and they all live by one unbreakable rule: "Contact with men is strictly forbidden."
But everything takes an unexpected turn when Tsubaki, leader of the group, starts experiencing strange feelings whenever the subject of men comes up. Watch it on Crunchyroll, beginning April 9. 
Aoashi – April 9
It is a big season for sports anime this year! Ashito Aoi is a middle schooler who lives in Ehime and is an unremarkable soccer club ace. The day that they lost the final middle school tournament, Ashito runs into a man who had been watching his game. That man is Tatsuya Fukuda, the coach of the high-school-aged Youth team of a leading J-League team. How will this change his life? Find out on Crunchyroll, starting April 9. 
Don't Hurt Me, My Healer! – April 10
Need a fantasy anime that is a little less serious? Don't Hurt Me, My Healer seems like it will fit the bill! Follow along with the misadventures of one incredible clumsy knight and his new healer in this new fantasy comedy series! The slapstick comedy, antics and fantasy setting remind us a lot of Dragon Goes House Hunting, so fans of that will be in for a treat. Laugh along on Crunchyroll, starting April 10. 
RELATED: 9 Must-Watch Funimation Anime You Might Have Missed
Ascendance of a Bookworm (Season 3) – April 11
Main is a blue priestess apprentice with a target on her back. She's assigned a personal knight, which means leaving her family. How will Main be able to protect everyone she loves while pursuing her goal of creating a letterpress, with danger lurking around? Find out on Crunchyroll, starting April 11.
Ultraman (Season 2) – April 14
It's been three years since the first season of Ultraman aired, but it's finally back! Now perceived as a memory, the legendary "Giant of Light" is believed to have left earth and returned to his home planet. Shinjiro Hayata discovers that his father was the Ultraman. Taking the mantle from his father, Shinjiro becomes the new Ultraman of the earth. Rejoin the adventure on Netflix, starting April 14.
Pacific Rim: The Black (Season 2) – April 19 
Welcome back to the classic tale of giant monsters versus teens in machines. When kaiju begin to rise from the sea and lay waste to Australia, a young teenage boy, Taylor, and his sister, Hayley, use a giant mecha Jaeger to navigate the continent searching for their missing parents. There's no trailer yet, but you can still join their search on Netflix, starting April 19.
A Couple of Cuckoos – April 23
16-year-old Nagi Umino, a second-year student at the Meguro River Academy High School, was switched at birth. On his way to a dinner to meet his birth parents, he accidentally meets the brash, outspoken Erika Amano, who is determined to make Nagi her fake boyfriend (since she doesn't want to marry). Will they work out? Find out on Crunchyroll, starting April 23. 
Bubble – April 28
This final entry on our list, Bubble, is a movie! With some big names from talented people, we have high expectations of this parkour-infused anime. Hibiki, a reckless but talented ace, accidentally slips from the rooftops, but before plummeting into the gravity-bending sea below, Uta saves him, a girl with mysterious powers. What bonds the pair together is their ability to hear a sound only audible to them. Watch the adventure on Netflix on April 28. 
Wow, that was a lot to get through, but you did it! Well, super-fan, what are you most excited to see from the list? We'd love to hear from you in the comments below. 
Also, if you happened to miss the first part of the list, you can find it below!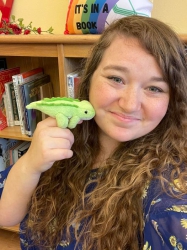 Latest posts by Lauren Darnell
(see all)