Welcome to the second half of the January installment of GGA's monthly anime roundup for 2023, where we give you a detailed list of what anime is coming your way. This January begins a busy winter anime lineup and you can catch up with the first part of our roundup here. 
Remember that due to the Funimation/Crunchyroll merger, there is no new anime debuting on Funimation. Funimation will continue to add episodes of current shows, but the new series will air exclusively on Crunchyroll. We will miss Funimation, but as we look to the future, we have everything you should be watching!
RELATED: Check out more from our Anime Roundup series!
By the Grace of the Gods (Season 2)- January 8
Fans of That Time I Got Reincarnated as a Slime will love By the Grace of the Gods. Only 39 years into a life full of bad luck, Ryoma Takebayashi passes away in his sleep! Taking pity on him, three divine beings show compassion by reincarnating him as a young boy to a magical, new world. Now he spends his time researching and caring for slimes. The story continues on Crunchyroll starting January 8.
In/Spectre (Season 2)-January 8
Iwanaga Kotoko became the god of wisdom to supernatural beings and spends her days solving problems for them. However, the boy she fell head over heels for, Sakuragawa Kuro, is feared by all supernatural creatures. Do opposites really attract? Find out on Crunchyroll, starting January 8.
The Tale of Outcasts- January 8
A girl and a demon, both searching for their place in the world, have been brought together by fate. What future awaits them now? Fans of Magus Bride might be interested in checking out this series on Crunchyroll starting January 8. 
RELATED: 8 Anime Outros Too Good to Skip
Handyman Saitou in Another World- January 8
One average hired hand is going to bring his everyday skills to the world of warriors and wizards. I cannot get enough of these anime set in unconventional fantasy worlds. Tune in on Crunchyroll starting January 8.
Vinland Saga (Season 2)- January 9
After the death of his longtime enemy, Askeladd, Thorfinn lost his purpose in life. He was bought by the landowner Ketil as a "slave" and engaged in land reclamation work on his farm. The first season of Vinland Saga was intense and I'm excited to catch it on both Crunchyroll or Netflix starting January 9.
Reborn to Master the Blade: From Hero-King to Extraordinary Squire- January 9
Reborn in the far future as a daughter to renowned knights, Inglis focuses on mastering the martial arts. A wish has been granted, and Inglis will be on the front lines fulfilling the dream of becoming the strongest knight. Join the journey on Crunchyroll starting January 9. 
Malevolent Spirits: Mononogatari- January 9
Filled with rage against spirits known as tsukumogami, Kunato Hyoma is sent to live with Nagatsuki Botan to help him see a different side. Though both are part of a clan that returns the spirits back to their world with divine powers, their experiences with the otherworldly vessels are vastly different. This series will be showing on Crunchyroll starting January 9.
RELATED: 6 Underrated Anime You Might Have Missed in 2022
The Vampire Dies in No Time (Season 2)- January 9
If you are needing to take a break from the more intense, serious anime this will be the show for you. Vampire hunter Ronaldo finds an unlikely ally in Draluc, the world's weakest vampire who turns to dust at the slightest attack. Fans of shows like Sleepy Princess in the Demon Castle will be interested in starting this series on Crunchyroll on January 9. 
Ayakashi Triangle- January 9th
Matsuri Kazamaki's job as an exorcist ninja means that his livelihood depends on driving away the ayakashi spirits. He's been protecting his childhood friend, Suzu Kanade, from the shadows for years, as she effortlessly attracts ayakashi. Will his efforts be enough when she attracts the attention of the king of ayakashi? This is totally up my alley and I will be tuning into Crunchyroll to watch it starting January 9.
Junji Ito Maniac: Japanese Tales of the Macabre- January 18
This unique series is a collection of animated tales from the legendary Japanese horror author Junji Ito. This anthology will be premiering exclusively on Netflix starting January 18. Viewer beware, you're in for a scare.
Recrod of Ragnarok (Season 2)- TBA
Humanity requires seven wins to survive so to even the odds combatants are given a valkyrie, each tailored into a powerful weapon capable of allowing humans to fight the gods. Season 2 of this nailbiting series will be starting on Netflix sometime in January. 
NieR:Automata Ver1.1a- TBA
Finally, we will also have the highly anticipated NieR:Automata Ver1.1a coming out sometime this month as well! No word yet on the official date that it will be launching on Crunchyroll but we do have a killer trailer to tide us over. 
If you missed the first half of this list, which covers the first week of January, check the link below! Also, drop into the comments and tell us what you will start the year with!
Anime Roundup: Everything Coming Out in January 2023, Part 1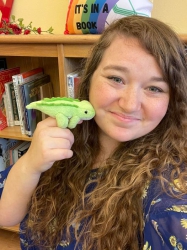 Latest posts by Lauren Darnell
(see all)