Welcome to the final installment of GGA's monthly anime roundup for 2022, where we give you a detailed list of what's coming your way in December. 
Remember that due to the Funimation/Crunchyroll merger, there is no new anime debuting on Funimation. Funimation will continue to add episodes of current shows, but the new series will air exclusively on Crunchyroll. We will miss Funimation, but as we look to the future, we have everything here you should watch. 
RELATED: Check out more from our Anime Roundup series!
Jojo's Bizzare Adventure: Stone Ocean (Part 3) – December 1
The bizarre ride is coming to a close with the release of the third and final episodes coming to Netflix on December 1. Episodes 25-38 will wrap up the incredibly popular series and feels like a fitting way to bid farewell to 2022. 
Lookism – December 8
After a brief delay because of a tragic incident in Seoul, Korea, Lookism is coming to Netflix! This was my most anticipated title of November, so I'm glad it's still coming out this year.
One morning, a high school student wakes to discover he now has a handsome face and a perfect body. Set in a society that favors good looks, the underdog outcast leads a double life switching between his two bodies that are opposites in appearance.
RELATED: 8 Anime Outros Too Good to Skip
Dragon Age: Absolution – December 9
Based on Bioware's hit video game series, Dragon Age: Absolution is coming to Netflix in December. While the show will have a solid fanbase from the crossover with the video game, the voice talent is sure to turn some heads with a cast that includes Ashly Burch, Matthew Mercer, Phil LaMarr, Josh Keaton and Kimberly Brooks. 
Set in the Tevinter Empire, the oldest of several human nations in Thedas explore the experiences of its different inhabitants.
Gudetama: An Eggcellent Adventure – December 13
Gudetama, the laziest egg around, is getting out of bed and up to trouble in Netflix's animated series Gudetama: An Eggcellent Adventure. 
It's a lethargic, empathetic road movie about finding one's parents for everyone who wants to laze about. Having resigned to the fact that it will end up on someone's plate, Gudetama wants to be lazy all the time.
RELATED: 8 Anime Opening Songs That Are Total Bops
Seven Deadly Sins: Grudge of Edinburgh (Part 1) – December 20
Speaking of things I thought we would have in November, the first part of the Seven Deadly Sins: Grudge of Edinburgh spinoff film will officially release on Netflix on December 20.
Tristan inherits the power of the Goddess Clan and can heal people's wounds and injuries, but he often ends up hurting others due to his inability to control his Demon Clan power. To protect his family, Tristan heads to Edinburgh Castle and meets many new friends along the way.
That's all, folks! This was a hallmark year for anime with many surprise hits, stunning finales and continued fan-favorite series hitting the small screen. Netflix is definitely where it is at for new December releases, but we will be back to cover everything coming out on Crunchyroll in January 2023 for the anime roundup!
What will you be watching in the final moments of 2022? Have you caught up on everything on your watchlist this year? I know I'll be tuning into the last episodes of Jojo's Bizarre Adventure and Lookism. Comment below to tell us what you'll be watching, and be sure to come back for the first anime roundup of the new year.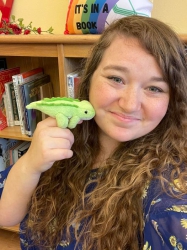 Latest posts by Lauren Darnell
(see all)