Everyone has that banger anime opening that is too good to skip, but what about the outros? The outro songs often have a much different vibe to their openers, with softer visuals and light melodies that cleanse your mind before the next episode starts. 
Sometimes, they take a different approach, with intense vocals and fast visuals that continue the hype into the next episode. There is no correct answer as to which style of outro is better. I get just as excited seeing an anime's outro for the first time as I do their opener. 
That said, this is not a "best of" list and is organized in no particular order. So, if you didn't see your favorite outro on here this time, comment below so it can make the next list.
Shout out to Crunchyroll for uploading so many of the end credits scenes to YouTube for us to jam out to!
RELATED: Bee and Puppycat First Season Reboot Returns to Netflix
Full Metal Alchemist Brotherhood (Edition 1)
The first edition outro for Full Metal Alchemist Brotherhood is the gold standard for anime outros. The art style is simplistic but eye-catching, filled with character details. Most importantly, the song is a bonified bop. 
Special thanks to user Nina for uploading this bop to YouTube for everyone to enjoy!
Inuyasha (Edition 2)
This anime outro is unskippable for a whole different reason. Who else remembers falling asleep on the couch watching Toonami and waking up to this jolting them into a different realm? I swear I could never find the remote fast enough to turn this outro off or down; now, it is ingrained in my childhood forever.
JUJUTSU KAISEN (Edition 1)
RELATED: Crunchyroll Anime Expo 2022: Everything Shown at the Industry Panel
My Hero Academia (Edition 1)
You'd be hard-pressed to find another outro as beloved as My Hero Academia's first. The closing art is poignant and uplifting, almost like it was pulled from a young Deku's playlist. The song is worthy of any playlist; together, they make for an impossible-to-skip sequence. 
HunterxHunter (Edition 5)
This was hard to narrow down as HunterxHunter has several amazing outros, but I had to give the spot to the fifth edition. I don't know what they put to the fifth edition outro song for HunterxHunter, but it is addicting. I catch myself humming it sometimes and can never skip it. 
Soul Eater (Edition 3)
The music for Soul Eater has always been a unique experience from your typical anime openers/closers. This perfectly complements the more stylized art style and dark theming. It has always been the third outro that stood out most for me. The bouncing lyrics paired with the freeze-framing of the characters make for an unskippable combination. 
RELATED: 8 Anime Opening Songs That Are Total Bops
Fire Force (Edition 1)
Fire Force carries over much of the theming and fun from our previous entry, Soul Eater, but its first outro sequence cannot be skipped for an entirely different reason. The melodic tune and ethereal visuals are enchanting, ensnaring viewers into staying for one episode after the next until you've binged an entire season.
Attack on Titan (Edition 2)
We have to finish with this Attack on Titan outro. Exceptionally few shows would ever be so bold as to pack their outro with spoilers for the rest of the series. But is it really a spoiler if the viewers don't understand it?
Did we forget to include your favorite anime outro on this list? Which ending songs do you never skip? Comment below and tell us what we missed!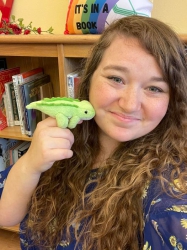 Latest posts by Lauren Darnell
(see all)