Welcome to the February installment of GGA's monthly anime roundup for 2023, where we give you a detailed list of what anime is coming your way. This month continues the winter anime season and is lighter on new releases.
Remember that due to the Funimation/Crunchyroll merger, there is no new anime debuting on Funimation. Funimation will continue to add episodes of current shows, but the new series will air exclusively on Crunchyroll. We will miss Funimation, but as we look to the future, we have everything here you should watch. 
RELATED: Check out more from our Anime Roundup series!
Detective Conan: The Culprit Hanzawa (Season 1) – February 1
A dark shadow falls upon Beika Town, a place renowned for its criminal cases. The mysterious person's purpose? To kill a certain man. Yes, the person indispensable to "Detective Conan" is now the protagonist! Tights-clad and pure of mind: it's none other than the Culprit Hanzawa. You can catch this comedic spin-off on Netflix starting February 1.
Make My Day (Season 1) – February 2
On a cold planet of ice and snow, mysterious creatures suddenly appear from the dark underground and begin to attack the inhabitants. Can humanity survive the terror lurking beyond the horizon? The animation for this one isn't my usual choice. It looks like it is trying to be a throwback to early 2000s computer animation, but the plot is interesting. You can join the crew on Netflix starting February 2. 
Hirogaru Sky! Precure – February 5
The young princess Elle-chan has been snatched away by the monsters of the Andaagu Empire. A brave young girl, Sora, follows the princess to a mysterious hole that leads to Solasido City in another world. The forthcoming 20th series of TOEI Animation's long-running Precure franchise will simulcast on Crunchyroll starting February 5.
RELATED: 8 Anime Outros Too Good to Skip
Aggretsuko (Season 5) – February 16
I'm not proud of the person I will become when the fifth and final season of Aggretsuko comes out. What new death metal hits await us? Which characters from Retsuko's past will make a reappearance? I cannot wait and am completely saddened to say goodbye to my favorite red panda. Join me on Netflix to watch the final episodes of Aggretsuko starting February 16.
Pokémon Ultimate Journeys: The Series (Part 2) – February 24
The next step in Ash's journey will see the aspiring world champion take on even more challenges as he prepares to tackle the world championships with his trustee Pikachu. Pokémon Ultimate Journeys: The Series will continue the adventures of Ash and Goh, with the former continuing to rise through the ranks of the World Coronation Series and the latter continuing his work on Project Mew. Ash's Pokémon journey resumes on Netflix starting February 24. 
Will you spend February catching up on January releases or starting something new? I still have more to watch myself, but I'll be on the couch waiting for Season 5 of Aggretsuko to arrive.
Anime Roundup: Everything Coming Out in January 2023, Part 1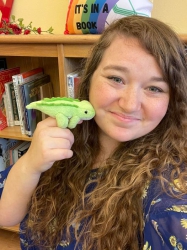 Latest posts by Lauren Darnell
(see all)