It's happening everyone! We're finally getting a Supernatural crossover episode. And it will be with an unlikely cast of characters. At The CW Upfronts presentation in New York City, it was announced that in Season 13 we will be getting an animated crossover episode between Supernatural and Scooby-Doo.
Related: Check out GGA's Supernatural Season 12 Recaps
This is not the first time that Supernatural has gone animated. In 2010, the show got the anime treatment with Supernatural: The Animation. Granted, the stories covered in that series were as serious as Supernatural gets so it was not as light-hearted as a Scooby-Doo episode so expect some laughs and some zany moments as Sam and Dean, possibly Cass and Crowley, go on a case with Scooby-Doo.
Supernatural has always been able to laugh at themselves throughout their 12-year history. If you remember episodes like Season 6's "The French Mistake" when Sam and Dean go into the "real world" and find out that "Sam" and "Dean" are merely characters on a TV show. Or in "Fan Fiction" from Season 10 when Sam and Dean have to investigate a school where they are staging a production of the Supernatural books.  There was also, "LARP and the Real Girl" from Season 8, when Dean got to dress up in chain mail and go LARPing. So it's no surprise that Jensen Ackles and Jared Padalecki and the rest of the crew would be completely on board for an episode like this.
Related: Check out GGA's Supernatural Rewatch Recaps
There is no word yet on when this crossover will air or who else will be in it, but expect it to be a memorable episode with Dean saying "Zoinks!" at least once. 
The Season 12 Finale was tonight, so get ready for Season 13 coming this Fall. Supernatural will be on the same day and time, Thursdays at 8pm PST/EST on The CW.
Below is the first picture from the Season 13 crossover. It's already great.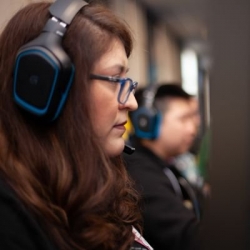 Latest posts by Renee Lopez
(see all)