Animal Shelter Simulator allows you to tackle the challenging but highly rewarding task of running a refuge for strays and rescues. Witness firsthand how much effort goes into helping abandoned and injured animals as you handle a number of tasks necessary for your shelter to operate smoothly.
The Basics
Let's get down to basics. As the name suggests, this is a simulation game where you will direct and manage the operation of an animal shelter. Choose from a shelter specializing in either cats or dogs, overseeing their rehabilitation and eventual adoption. 
RELATED: GGA Game Review: Ravenlok
The animal care elements of the game are intuitive but extensive, with status bars similar to playing games like The Sims 4. While your shelter manager never has any needs, the animals in your care will require you to feed, water, exercise, play and even treat their medical issues. 
You'll need to keep an eye on your budget as well. Everything you need to care for your critters can be ordered on the computer in the office and delivered straight to the shelter via a drone system. 
Why Should I Play?
Why should you play Animal Shelter Simulator? This is the perfect simulation game for animal lovers. My favorite part of the game is how well the animals are animated. There is a decent amount of body styles and color variations in the animals you rescue, making the game feel fresh even on replays. How they interact with objects in-game is satisfying, especially watching the cats chase the laser pointers in the yard. 
RELATED: May's Most Anticipated Video Games
My only gripe is that I wish there were more variations in the animals' injuries or illnesses. The game isn't called "Animal Vet Clinic Simulator," though, so this isn't a real problem, but I feel like it would be a good quality-of-life update. 
Animal Shelter Simulator Trailer
Ready to rescue some adorable pets for yourself? You can find Animal Shelter Simulator on all platforms, including PlayStation 5, PlayStation 4, Xbox One, Nintendo Switch and, of course, through Steam here!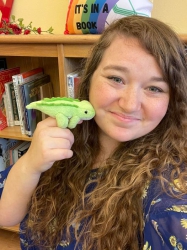 Latest posts by Lauren Darnell
(see all)