September is going to be a hallmark month for cozy gamers with a slew of highly anticipated titles launching. Basically, if you have a cozy gamer in your life cancel all plans with them for the rest of the year. They'll only be seeing their couch and cat. 
We have a lot to get through, so without further delay let's get into what you'll be playing on your Nintendo Switch!
Ooblets- 9/1
Kicking off the month is Ooblets! This cozy pick is a farming, creature collection and town life simulator mix where you build up your farm, befriend townsfolk, grow ooblets and have dance-offs. Fans of games like Garden Story will love Ooblets.
Disney Dreamlight Valley- 9/6
Disney Dreamlight Valley is a hybrid between a life-sim and an adventure game rich with quests, exploration and engaging activities featuring Disney and Pixar friends, both old and new.  Once an idyllic land, Dreamlight Valley was a place where Disney and Pixar characters lived in harmony—until the Forgetting.
Bear and Breakfast- 9/15
Bear and Breakfast is a laid-back management adventure game where you build and run a bed and breakfast…but you're a bear. The final release date announcement for Bear and Breakfast actually came just hours before I began writing this. I'm so stoked we will be able to try our paw at running our own B&B in just a few short weeks. 
RELATED: 8 Nintendo Switch Games You Can Beat in an Afternoon
Wylde Flowers-9/20
Join Tara on a heartfelt journey to become a witch in Wylde Flowers. Farm by day, and cast spells by night as you craft your cottagecore life and bond with your coven. Come to know and love the fully voice-acted characters of Fairhaven, as you unravel a local mystery. Fans of the Story of Seasons series will be able to enjoy the little things in life later this month!
Beacon Pines-9/22
Beacon Pines is a cute and creepy adventure set within a mysterious book. You play as both the reader of the book and its main character, Luka. Sneak out late, make new friends, uncover hidden truth and collect words that will change the course of fate in a game perfect for fans of Twin Peaks.
Potion Permit- 9/22
The Medical Association decides to send their most accomplished chemist – you – to help cure the mayor's daughter and convince the residents of Moonbury of the wonders of modern alchemy. Gain their trust and tend to each person when they fall ill in this open-ended sim RPG.
Hakko Life-9/27
Hokko Life is a cozy, creativity-filled community sim game. Hop off the train and into your new life in the village of Hokko! Take over the old workshop and get creative; use crafted materials and design everything in town! With complete creative freedom, what type of town will you build?
RELATED: Camp Canyonwood Review: The Good, the Bad and the Haunted
Life in Willowdale-9/27
Part town builder, farm simulator and open combat RPG, Life in Willowdale is a little more complicated than it seems on the surface. Work to restore the town, build a lively farm and encounter unexpected challenges.
Lemon Cake-9/30
Restore an abandoned bakery and prepare pastries from farm to table! Grow fresh ingredients in the greenhouse, cook pastries & sweets in the kitchen and serve your baked goods to hungry customers in your own shop. The gameplay style makes me believe it will play like a more involved version of Little Dragon Cafe, which I love. 
Do you already have these cozy games on your wishlist for September? Which will you be playing on your Nintendo Switch first?
GGA Game Review: VIDEO GAME FABLES – Can You Rewrite Your Story?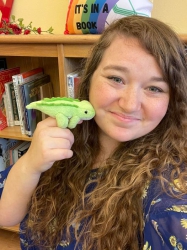 Latest posts by Lauren Darnell
(see all)