Board games make perfect stocking stuffers. They are easy to find, inexpensive and there are so many different games that there's something for everyone. That said, staring down the options in the game aisle can be overwhelming, so here is a list of our favorite small board games for this holiday season!
These games can be found at major retailers, but we ask that you give your local game store a chance first. They offer games at the same price as the box stores but will greatly appreciate your business. 
RELATED: Need help finding the perfect gift? Check out our gift guides!
Ouch!
Ouch! is a great family game that is portable and accessible to young players. Players will take turns choosing the cactus card with the prettiest flowers they want for their collection.
Before taking the card, they'll need to indicate which side of the card they will touch and then flip it, handling only that side of the card. If the reverse is clear on that side, they can take the card and score that number of flowers. They will lose the card if the reverse shows a cactus full of thorns. The player with the most flowers wins.
Game Mechanics:
2-5 Players (2-4 optimized)
Luck-based/Card Game
Playtime: 10-15 minutes per round
Beginner Friendly
Autumn Harvest: A Tea Dragon Society Card Game
Autumn Harvest: A Tea Dragon Society Card Game is a variation of The Tea Dragon Society Card Game we have discussed in previous lists.
Each player's deck represents their Tea Dragon. From turn to turn, players will choose to draw a card, triggering effects and strengthening their position; or buy a card, improving their deck or scoring points. At the end of the game, the player with the most points wins.
Game Mechanics:
2-4 Players
Playtime: 30-60 minutes
Deck building 
RELATED: My Top 5 Board Games of 2022 (So Far)
Bag of Chips
The chips will fall as they may, and people will be upset about it. Bag of Chips is a high-energy betting game where players attempt to predict which chips will fall out of the bag. This is a great game for groups because every party needs a bag of chips.
Game Mechanics:
2-5 Players
Playtime: 20-30 minutes
Betting/Strategy Game
Party Style
The Light in the Mist
The Light in the Mist is not an entry-level game, but if you have a board game lover on your shopping list, this is a challenging and unique option for their collection. 
It uses a nonlinear structure and varied puzzle difficulty to engage players with more than five hours of gameplay. The cards have a tarot look to them, but an understanding of tarot is not needed. It is one of the most unique games I have played this year, with gorgeous illustrations and complex storytelling. 
Game Mechanics: 
Solo or Small Group Cooperative Play
Playtime: 200-500 minutes
Puzzle/Narrative Gameplay
Not Beginner Friendly
RELATED: Board Game Review – Clue: Critical Role
FLY
FLY is the perfect stocking stuffer for its accessible gameplay style and small size. The whole game is barely larger than a pack of gum! Players take turns dropping the fly swatter card on the table to swat flies with like colors and symbols. You'll need at least 3 of the same color or symbol for a fly to count.
Game Mechanics:
2-4 Players
Playtime: 10-15 minutes
Dexterity/Set Collecting Gameplay
Beginner Friendly
A Fake Artist Goes to New York
This small game packs big fun and replay value. In A Fake Artist Goes to New York, players take turns being the Question Master who poses the drawing prompt for all the artists. Well, except one, who is an imposter amongst you. 
Players will go around the table twice, drawing one contiguous stroke each on a piece of paper to draw the word established by the Question Master, then guess who the fake artist is. If the fake artist is not caught, both the fake artist and Question Master earn points; if the fake artist is caught and cannot guess what the word is, the artists earn points.
Game Mechanics:
5-10 Players
Playtime: 20-30 minutes
Art/Deception Game 
Great for large groups
RELATED: Crit the Holidays With Our Wizards of the Coast Gift Guide
Bandido
Bandido is another great cooperative game to play on holidays with the family. I have only played the classic version of this game, but there are several to choose from. Players will work together to build a tunnel system for a prisoner, trying to foil his escape plans. It is your job to cut off his exits and foil his plans. If the prisoner escapes, you all lose. 
Game Mechanics:
1-4 Players
Playtime: 10-15 minutes
Cooperative/Strategy Gameplay 
Which board games are on your stocking stuffers list this year? Sound off in the comments below!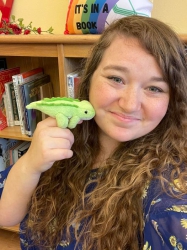 Latest posts by Lauren Darnell
(see all)