In case you missed it, the Game Developers Conference just held their 17th Annual Game Developers Choice Awards (GDCA) and 19th Annual Independent Games Festival (IGF) in San Francisco. Nominees and winners of the Game Developers Choice Awards were selected by the Game Developers Choice Awards-specific International Choice Awards Network (ICAN), highlight the games that "recognize and celebrate the creativity, artistry, and technical genius of the finest developers and games created in the last year."
The Independent Games Festival recognizes excellence in indie games and independent video game developers. The winners of these awards receive a cash prize, with the Seumas McNally Grand Prize for Indie Game of the Year totaling $30,000.
The GDCA nominees are familiar games that we have seen in past game awards from Overwatch to Inside to Battlefield 1. Blizzard's Overwatch and Playdead's Inside lead all winners with two awards a piece. Overwatch won Game of the Year and Best Design while Inside picked up the awards for Best Audio and Best Visual Art. Other winners included Firewatch, Campo Santo, No Man's Sky and Uncharted 4: A Thief's End.
The cyberpunk heist game, Quadrilateral Cowboy won the coveted Seumas McNally Grand Prize along with $30,000. The Nuovo (Innovation) Award went to David Kanaga's Oiκοςpiel, Book I, a dog opera in 5 parts. Other indie game winners included Hyper Light Drifter, Ladykiller in a Bind, GoNNER, and Un Pas Fragile. Check out the Independent Games Festival website for more information about these indie games.
Game Developers Choice Awards
Game of the Year
Uncharted 4: A Thief's End (Naughty Dog / Sony Interactive Entertainment)
WINNER – Overwatch (Blizzard Entertainment)
Inside (Playdead)
Dishonored 2 (Arkane Studios / Bethesda Softworks)
Firewatch (Campo Santo / Panic)
Honorable Mentions: DOOM (id Software / Bethesda Softworks), The Witness (Thekla), Battlefield 1 (EA DICE / Electronic Arts), The Last Guardian (JAPAN Studio / Sony Interactive Entertainment), Titanfall 2 (Respawn Entertainment / Electronic Arts)
Best Design
WINNER – Overwatch (Blizzard Entertainment)
Dishonored 2 (Arkane Studios / Bethesda Softworks)
The Witness (Thekla)
Inside (Playdead)
DOOM (id Software / Bethesda Softworks)
Honorable Mentions: Titanfall 2 (Respawn Entertainment / Electronic Arts), Uncharted 4: A Thief's End (Naughty Dog / Sony Interactive Entertainment), Dark Souls III (From Software / Bandai Namco Entertainment), Firewatch (Campo Santo / Panic), Hitman (IO Interactive / Square Enix)
Best Narrative
The Last Guardian (Japan Studio / Sony Interactive Entertainment)
Oxenfree (Night School Studio)
Uncharted 4: A Thief's End (Naughty Dog / Sony Interactive Entertainment)
Inside (Playdead)
WINNER – Firewatch (Campo Santo / Panic)
Honorable Mentions: That Dragon, Cancer (Numinous Games), Dishonored 2 (Arkane Studios / Bethesda Softworks), The Witcher 3: Blood & Wine (CD Projekt RED / CD Projekt), Kentucky Route Zero – Act IV (Cardboard Computer), Mafia III (Hangar 13 / 2K Games)
Best Debut
Heart Machine (Hyper Light Drifter)
WINNER – Campo Santo (Firewatch)
ConcernedApe (Stardew Valley)
Drool (Thumper)
Night School Studio (Oxenfree)
Honorable Mentions: SUPERHOT Team (SUPERHOT), Numinous Games (That Dragon, Cancer), Giant Squid Studios (Abzu), Ghost Town Games (Overcooked), iNK Stories (1979 Revolution: Black Friday)
Innovation Award
The Witness (Thekla)
Inside (Playdead)
WINNER – No Man's Sky (Hello Games)
Firewatch (Campo Santo / Panic)
Pokemon Go (Niantic)
Honorable Mentions: That Dragon, Cancer (Numinous Games), The Last Guardian (JAPAN Studio / Sony Interactive Entertainment), Superhot (Superhot Team), Thumper (Drool), Quadrilateral Cowboy (Blendo Games)
Best Audio
Battlefield 1 (EA DICE / Electronic Arts)
Thumper (Drool)
Doom (id Software / Bethesda Softworks)
WINNER – Inside (Playdead)
Overwatch (Blizzard Entertainment)
Honorable Mentions: Uncharted 4: A Thief's End (Naughty Dog / Sony Interactive Entertainment), Rez Infinite (Monstars / Enhance Games), Hyper Light Drifter (Heart Machine), Firewatch (Campo Santo / Panic), Dishonored 2 (Arkane Studios / Bethesda Softworks), The Last Guardian (JAPAN Studio / Sony Interactive Entertainment), Titanfall 2 (Respawn Entertainment / Electronic Arts)
Best Mobile/Handheld Game
Super Mario Run(Nintendo EPD / Nintendo)
Clash Royale(Supercell)
WINNER – Pokémon Go(Niantic)
Reigns(Nerial / Devolver Digital)
Pokémon Sun/Moon(Game Freak / The Pokémon Company)
Honorable Mentions: Mini Metro (Dinosaur Polo Club), Severed (DrinkBox Studios), Deus Ex: Go (Square Enix Montreal / Square Enix), Fire Emblem Fates (Intelligent Systems and Nintendo SPD / Nintendo), Imbroglio (Michael Brough), Swap Sword (AP Thomson and Diego Garcia)
Best Technology
Battlefield 1(EA DICE / Electronic Arts)
No Man's Sky(Hello Games)
Overwatch(Blizzard Entertainment)
DOOM(id Software / Bethesda Softworks)
WINNER – Uncharted 4: A Thief's End(Naughty Dog / Sony Interactive Entertainment)
Honorable Mentions:  Inside (Playdead), Pokemon Go (Niantic), The Last Guardian (JAPAN Studio / Sony Interactive Entertainment), Dishonored 2 (Arkane Studios / Bethesda Softworks), The Witness (Thekla)
Best Visual Art
Firewatch(Campo Santo / Panic)
The Last Guardian(JAPAN Studio / Sony Interactive Entertainment)
Overwatch(Blizzard Entertainment)
Uncharted 4: A Thief's End(Naughty Dog / Sony Interactive Entertainment)
WINNER – Inside(Playdead)
Honorable Mentions: The Witness (Thekla), Battlefield 1 (EA DICE / Electronic Arts), Abzu (Giant Squid Studios), Thumper (Drool), DOOM (id Software / Bethesda Softworks)
Best VR/AR Game
Rez Infinite(Monstars / Enhance Games)
Superhot VR(SUPERHOT Team)
WINNER – Job Simulator: The 2050 Archives(Owlchemy Labs)
Pokémon Go(Niantic)
Fantastic Contraption(Radial Games / Northway Games)
Honorable Mentions: Thumper (Drool), Superhypercube (Kokoromi / Polytron Corporation), Batman Arkham VR (Rocksteady Studios / Warner Bros. Interactive Entertainment), Space Pirate Trainer (I-Illusions), The Lab (Valve)
Ambassador Award
Mark DeLoura, Former Senior Advisor for Digital Media for the White House Office of Science and Technology Policy (OSTP)
Lifetime Achievement Award
Jordan Mechner, Creator Prince of Persia
Lifetime Achievement Award
Tim Sweeney, Founder of Epic Games and developer of the Unreal Engine
Audience Award
Battlefield 1 (EA DICE / Electronic Arts)
Independent Games Festival
Seumas McNally Grand Prize
Inside (Playdead)
Stardew Valley (ConcernedApe)
WINNER – Quadrilateral Cowboy (Blendo Games)
Event[0] (Ocelot Society)
Hyper Light Drifter (Heart Machine)
Overcooked (Ghost Town Games)
Honorable Mentions: 1979 Revolution: Black Friday (iNK Stories); Orwell (Osmotic Studios); Imbroglio (Michael Brough); Virginia (Variable State); Duskers (Misfits Attic); Oiκοςpiel, Book I (David Kanaga)
Nuovo Award (Formerly Innovation Award)
Islands: Non-Places (Carlburton LLC)
Close (Tobias Zarges and Moritz Eberl)
Diaries of a Spaceport Janitor (Sundae Month)
WINNER – Oiκοςpiel, Book I (David Kanaga)
Everything (David OReilly)
Virginia (Variable State)
Mu Cartographer (Titouan Millet)
Lieve Oma (Florian Veltman)
Honorable Mentions: Memoir En Code: Reissue (Alex Camilleri); Far from Noise (George Batchelor); Ladykiller in a Bind (Love Conquers All Games); Witchball (S.L.Clark); Project Perfect Citizen (Bad Cop Studios); Wheels of Aurelia (Santa Ragione); Quadrilateral Cowboy (Blendo Games)
Best Student Game
Diaries of a Spaceport Janitor (Sundae Month)
Lily, Colors of Santa Luz (Lily, Colors of Santa Luz Team)
WINNER – Un Pas Fragile (PAF team)
FAR: Lone Sails (Mr. Whale's Game Service / Mixtvision)
Frog Climbers (TeamCrew)
Bamboo Heart (Sokpop Collective)
Honorable Mentions: Awkward Dimensions Redux (StevenHarmonGames); DYO (Team DYO); Code 7 – Episode 0: Allocation (Goodwolf Studio); You Must be 18 or Older to Enter (Seemingly Pointless)
Excellence in Audio
The Flame in the Flood (The Molasses Flood)
WINNER – GoNNER (Art in Heart)
Virginia (Variable State)
Hyper Light Drifter (Heart Machine)
Everything (David OReilly)
Inside (Playdead)
Honorable Mentions: 1979 Revolution: Black Friday (iNK Stories); Kingdom: New Lands (Noio); Dropsy (Tendershoot, A Jolly Corpse); Diaries of a Spaceport Janitor (Sundae Month); Sentris (Timbre Interactive); TumbleSeed (TumbleSeed Team)
Excellence in Design
Imbroglio (Michael Brough)
Ultimate Chicken Horse (Clever Endeavour Games)
Duskers (Misfits Attic)
Overcooked (Ghost Town Games)
Event[0] (Ocelot Society)
WINNER – Quadrilateral Cowboy (Blendo Games)
Honorable Mentions: She Remembered Caterpillars (jumpsuit entertainment);Elsinore (Golden Glitch Studios); Inside (Playdead); Antihero (Tim Conkling); Replica (Somi); Space Pirate Trainer (I-Illusions)
Excellence in Narrative
WINNER – Ladykiller in a Bind (Love Conquers All Games)
1979 Revolution: Black Friday (iNK Stories)
Virginia (Variable State)
Orwell (Osmotic Studios )
Event[0] (Ocelot Society)
One Night Stand (Kinmoku)
Honorable Mentions: A Normal Lost Phone (Accidental Queens); The Lion's Song (Mi'pu'mi Games); Far from Noise (George Batchelor); Inside (Playdead); Stardew Valley (ConcernedApe); Burly Men at Sea (Brain&Brain); Sorcery! 4 (inkle / Steve Jackson)
Excellence in Visual Art
The Flame in the Flood (The Molasses Flood)
Inside (Playdead)
Virginia (Variable State)
Old Man's Journey (Broken Rules)
WINNER – Hyper Light Drifter (Heart Machine)
She Remembered Caterpillars (jumpsuit entertainment)
Honorable Mentions: Inks (State of Play); Night in the Woods (Infinite Fall); Mu Cartographer (Titouan Millet); Future Unfolding (Spaces of Play ); Sundered (Thunder Lotus Games); Un Pas Fragile (PAF team)
Alt.Ctrl.GDC Award
ID@Xbox Gaming For Everyone Awards
A Hero's Call (Out of Sight Games)
We Are Chicago (Culture Shock Games)
I, Hope (Arconyx)
IGF Audience Award
Hyper Light Drifter (Heart Machine)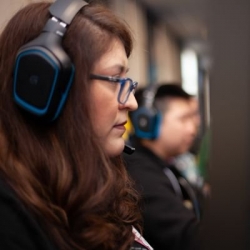 Latest posts by Renee Lopez
(see all)