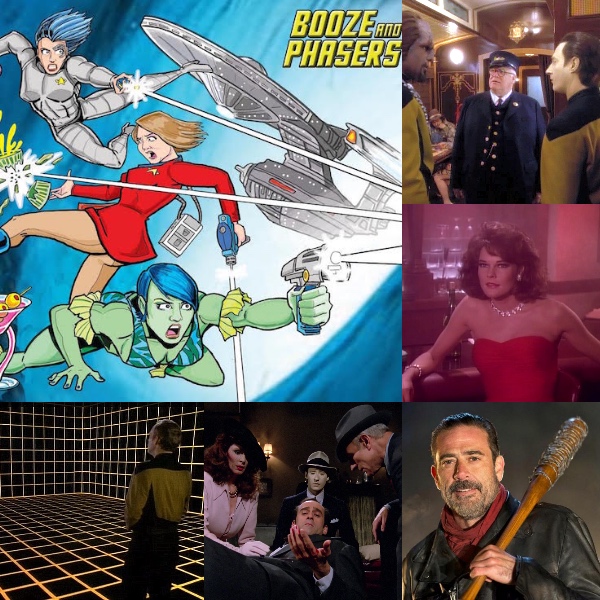 Fave Star Trek: The Next Generation holodeck episodes and a side of Negan with Josh Flaum And Joseph Scrimshaw
Welcome to Episode 17 of Booze and Phasers! The podcast where Claudia Dolph, Audrey Kearns and guests drink Genre and talk booze…we mean, we booze Genre and drink phasers… wait a minute, green people, Gorn – ENERGIZE!
We're now on the Giant Size Team Up network! Check them out, here!
**************
We're back to our roots talking all things Star Trek! Well some things Star Trek, specifically our favorite Star Trek: The Next Generation Holodeck Episodes. We invited Star Trek experts, Josh Flaum and Joseph Scrimshaw to chat about everything we loved, learned or hated, about a juicy Holodeck adventure.
A big part of the our discussion was that horrific season premiere episode of the The Walking Dead. You know the one. Spoilers, spoilers, spoilers abound if you're not caught up. Was it too much? Did they go to far? Or was it in alignment with the world in which The Walking Dead exists?
Thank you to our sponsor Devotion Vodka for supplying our cocktails. This weeks drink was The Minuet:
2oz Devotion Coconut Vodka
2oz fresh strawberry juice
1oz lemon juice
1oz lime juice
splash of ginger beer
Enjoy episode 17 of Booze and Phasers! Also tweet us  @BoozeandPhasers or Facebook us with your thoughts or ideas for upcoming topics!
You can follow Audrey on Twitter, here. Follow Claudia on Twitter, here. And please follow our fabulous guests on Twitter, Josh Flaum and Joseph Scrimshaw.  Don't forget to visit Giant Size Team Up, here!
Live, Long And Prosper!
Listen by clicking the 'play' button below or LISTEN HERE ON ITUNES or LISTEN HERE ON STITCHER!
Podcast (booze-phasers): Play in new window | Download
Subscribe: Apple Podcasts | Android | RSS
Latest posts by Claudia Dolph
(see all)