When it comes to beauty trends, girls like to express themselves with their hair. A girl's hairstyle should offer a cute and functional look while also reflecting her personality. The most popular styles are often versatile and can work on different hair types, lengths and textures for a picture-perfect finish.
Some girls may be drawn to braided hairstyles for a creative touch and others might like buns, twists, layers or classy updos. Whether you have short or long hair, there are many cute hairstyles for girls that are easy to get and stylish to wear out.
To inspire you with ideas, we've rounded up the best girl's hairstyles to try right now.
Girl's Hairstyles
Cute Braids
Given their versatility, braids are a go-to hairstyle for many young girls. You can wear them in a variety of styles, as well as accessorize them with hairbands, colorful scrunchies or sparkly hairpins.
There are different types of braiding techniques you can master. "Start with the classic 3-strand braid and work your way up to French braids, fishtail braids, rope braids or lattice braids," says Carmen Moore, former stylist and founder of The Hairstyle Review.
Don't be afraid to experiment to figure out what works best for you. You don't even have to braid your entire hair. Accent braids, for instance, are very in right now.
Stylish Buns
Hair buns have been around since the dawn of time. There's the practical aspect: they let you get your hair out of your face so you can get on with your day without worrying about rebel strands.
Buns also let you showcase your face features, making them a fitting choice for special occasions when you nail your make-up game. Elegant to messy, high or low, buns are timeless. It's never too late to see if they work with your personal style.
Ponytails
Another time-honored hairstyle, the ponytail can be dressed up or down depending on how polished you want to come across. You can wear it at the gym, for class, while chilling at home, or even at a party. Let Ariana Grande be your inspiration: she flawlessly makes hers work whenever she exits the house.
For those times when you want to add pizzazz to a basic ponytail, use a volumizing hairspray for extra texture and a touch of gel to tame flyaways. Then, wrap a small strand of hair around the elastic to hide it away.
Long Black Hair Twists
Black girls know that Afro-textured hair can be capricious. That's where twists come in. They serve a double role: they're fashionable and they lock in moisture.
"Twists are achieved by twisting two sections of hair around one another and you can use large or small sections of hair, depending on how you want the result to look," explains Ana Ro, women's style editor at Top Trends Guide.
This hairstyle requires absolutely no heat and you can wear it for days on end. Just make sure you wash and condition your twists regularly.
Long Layered Style
If you have long hair, layering it enables you to style it more easily. The hairdresser will cut the top layers of hair shorter than the bottom, giving you an instant volume boost.
From there, your hair will have more movement and will be more malleable, so you can model it to better suit your face. If you ever tried to curl thick long hair, you know that's a non-starter unless layers are involved.
As a downside, this style requires a lot of maintenance and regular salon visits for cuts. Also, deep conditioning your locks will become an integral part of your weekly routine.
Beachy Waves
Has there ever been a hairstyle more coveted by girls of all ages? 
Beachy waves are universally flattering, which makes them the holy grail of women's hairstyles. Too bad that figuring out how to get them takes work.
Even so, investing time in perfecting your technique is worth it. Whether you use a curling iron, a flatiron, or good old-fashioned braids, try different methods to see which of them best fits your hair type.
Using a salt spray gives you a head start. From there, learn from your mistakes. There's no such thing as "perfect" beach waves. Keeping them messy is the entire point.
Elegant Updos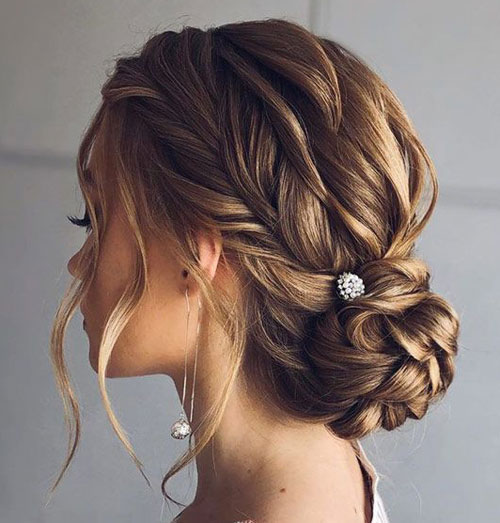 For special occasions like weddings or parties, nothing tops an elegant updo (pun intended). Despite what your friends might say, they're anything but boring. Quite the opposite; they make you look chic and grown-up.
"You can book an appointment with a hairstylist if you're nervous about attempting an updo on your own," writes Maddy Sims. With a little practice, you can achieve this style at home, with plenty of YouTube tutorials available to guide you every step of the day.
Pair your updo with gorgeous statement earrings and you'll turn heads in no time.
Curly Bangs
Nothing screams manic pixie dream girl like curly bangs. If that's your preferred aesthetic, we're happy to report that bangs and curly hair aren't as incompatible as you might think. Rocking a fringe with curly hair is doable as long as you have the right attitude.
It will probably never look quite the way you want it to. Embrace the mess, put a big smile on your face and wear your fringe with pride. Curtain bangs, all-over ringlets, side fringe: the world is your oyster.
Casual Shag Cut
The shag cut is very rock'n'roll, making it a great pick for girls eager to show off their rebellious side. Think layers, choppy ends, and a whole lot of volume.
What no one tells you about the shag cut is that, while it may appear like an effortless style, it involves a lot of effort. Otherwise, you risk looking shaggy. Pomade, hairspray, and styling creams will become your new BFFs.
Trendy Curtain Bangs
Curtain bangs are longer bangs that frame your face perfectly. First popularized in the late '60s by the likes of Brigitte Bardot and Farrah Fawcett, curtain bangs are back in the spotlight for one simple reason: they're ridiculous flattering.
They also require little maintenance, both in terms of growing out and daily styling. You can use a pair of eyebrow scissors to trim them yourself in-between salon appointments.
Middle Part
Middle parts aren't as popular as side parts because they work hard to highlight facial features. Needless to say, not everyone is comfortable with that. Still, a center part hairstyle works great for girls with a round face, creating the illusion of length and symmetry.
You can transition from a side part to a middle part and test out the style for yourself. For a more natural look, create the part slightly off-center.
Half Up Half Down Style
Another perfect hairstyle for girls with long locks is half up, half down. It's right there in the name: half your hair goes up (in a braid, bun or another variation), while the other stays down.
The style works with any hair texture and it's ideal for lazy days when you want to look your best but don't feel like putting too much time into styling. A half ponytail, half bun, or half-twist fishtail braid adds a touch of whimsy to your look in record time.
Layered Bob
Think of the layered bob as the long layered style for short locks. A bob cut in layers of different lengths provides volume, making it a solid fit for girls longing for a boho look.
Add an edgy fringe into the mix for bonus points. If you have an active lifestyle, a bob is seamless to style and maintain. You'll be surprised by how quickly you'll be able to get ready in the morning.
Latest posts by Betty Bugle
(see all)