Every month is Pride Month in my house, but that doesn't mean we don't celebrate each year by reading even more queer comics. Besides, this time of year is a great time to be an ally by celebrating your favorite LGBTQIA+ person and reading more of your favorite LGBTQIA+ characters in comics! Visibility is one path to acceptance! 
So, without further ado, here are my recommendations for queer comics that you should be reading for Pride Month as well as queer characters that should be on your radar. 
RELATED: Sapphics With Swords: 6 Books Featuring Queer Lady Warriors
Harley Quinn and Poison Ivy
DC Comics has several pioneering queer characters on its roster, including the Pied Piper, Batwoman and Supergirl. That LGBTQIA+ roster also includes two of my favorite characters of all time, Harley Quinn and Poison Ivy.
For people new to their love story, and because one comic recommendation isn't enough for the lovable duo, check out the DC Pride #1 story "Another Word For A Truck To Move Your Furniture" by Mariko Tamaki, Amy Reeder, Marissa Louise and Ariana Maher. This story is an excellent introduction to the pair's hilarious dynamic, as well as an introduction to Baby Archibald (you'll want to love it and squeeze it).
If you want more of this dynamic duo, check out Harley Quinn and Poison Ivy by Jody Houser, Adriana Melo, Hi-Fi, Mark Morales, Wade von Grawbadger and Gabriela Downie, in which the Crown Princess of Crime is ready to be a superhero.
However, since Poison Ivy, Quinn's partner-in-crime and in life, isn't prepared to go full hero yet, they go on a hilarious romp to save each other's lives while not doing anything "bad."
The Avant-Guards
We could be serious about comics or we could talk about how my gay ass cooed and then immediately needed to buy this comic because of a reference to Georgia O'Keeffe. The students in The Avant-Guards by Carly Usdin, Noah Hayes, Rebecca Nalty and Ed Dukeshire attend the Georgia O'Keeffe College of Arts and Subtle Dramatics.
However, suppose you want more information before picking up the first of two volumes in print. In that case, The Avant Guards is a delightfully cute comic about a basketball team trying to make it at an art school that doesn't shy away from the subject of queer romance.
It even captures those awkward first times trying to flirt using lousy pickup lines designed for someone else. But hey, sometimes bad pickup lines or drawing dinosaurs works out, no matter how irrational it seems.
Yelena Belova
One group in the LGBTQIA+ community that's often underrepresented in media is the asexual community. And, many people don't even know what asexual means, which is more reason to include asexual representation in popular media.
And while I love the ACE shipping of every Marvel Cinematic Universe character, asexual representation may be coming to the MCU, and her name is Yelena Belova (but don't hold your breath, she'll probably be clumsily adapted as heterosexual, but it would be great to be proven wrong).
An asexual Belova was introduced as Black Widow in the 1999 limited series Black Widow by Devin Grayson, J.G. Jones and Dave Kemp, published through Marvel Knights. And, the new Black Widow was asexual, at least according to Greyson, who said in an interview with Marvel that the character is "probably more likely to identify as asexual than to follow Nat's romantic path."
Betty and Veronica 
If you think the ladies of Riverdale are as straight as they come, think again! In Archie vs. Predator II by Alex de Campi, Kelly Fitzpatrick, Robert Hack and Jack Morelli, we learn that their fighting about Archie Andrews was less about Archie and more about the two of them.
But let's be honest, that's always been the case. Those two lovebirds bounce from man to man like a polyamorous dyad that sometimes wants to enjoy a steamy shower scene with … SLURP!
When the ladies of Riverdale finally admit their love for each other to themselves, they summon the devil and finally get the hell out of high school, demonstrating that a throwback doesn't mean you can't push things forward.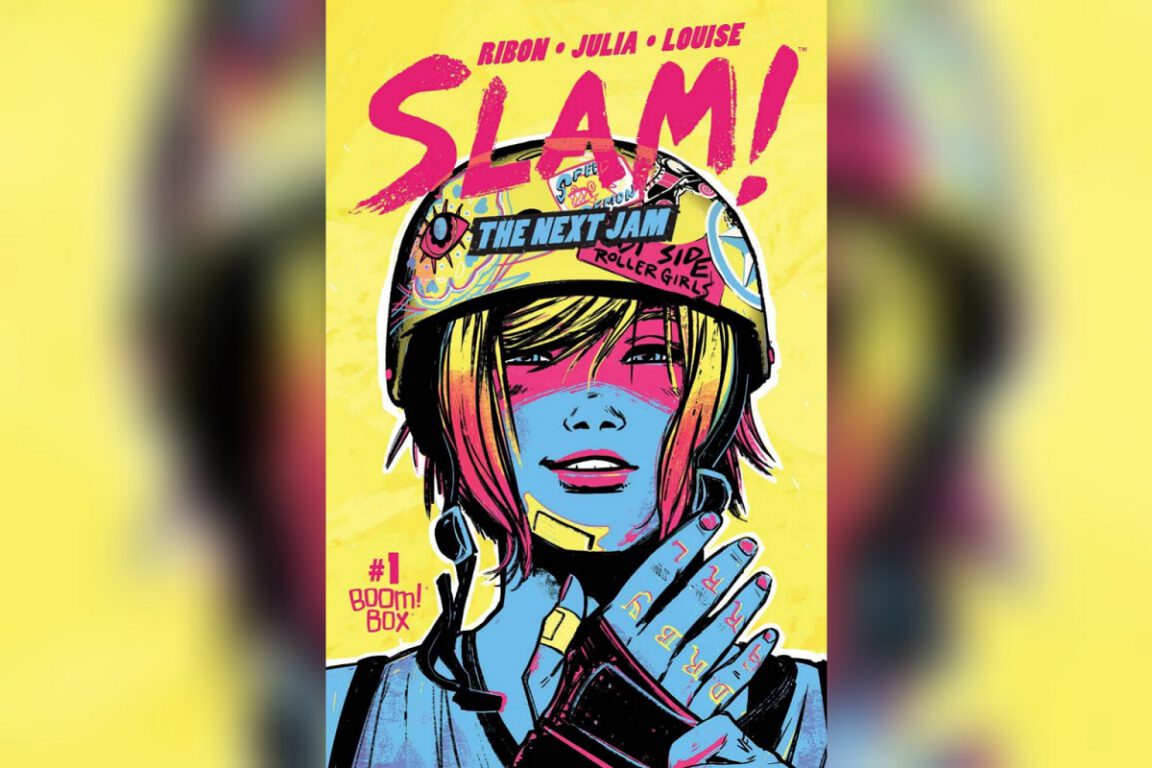 SLAM!
Roller derby is near the top of the list as one of the gayest sports out there: it's a super feminist, super sexy sport where women get to make up heroic alter egos so that they can slam into each other all summer long, all while celebrating their bodies in a tough physical competition.
For every other wannabe Derby Doll out there, SLAM! by Pamela Ribon, Marina Julia, Marissa Louise, Brittany Peer and Jim Campbell is the perfect comic for you to read right now.
You'll need to read the entire run for all of SLAM!'s queer glory, but it's worth it (this comic sold like hotcakes at my old comic shop). It's full of tough ladies hanging out together (sometimes naked) and supporting each other through personal ups and downs, empowering women to love each other while celebrating their bodies.
Fanlee and Spätzle
Fanlee and Spätzle Make Something Perfect is an aptly-named printed webcomic collection from cartoonist Pseudonym Jones and published by Silver Sprocket. I first learned about this slice of life series when my lovely wife interviewed "Emma of Hollyhill," a.k.a. Pseudonym Jones, for her pandemic series, Acrossing the Miles.
In fact, Hollyhill even inspired my own island's multi-month redecoration process as a Birds of Prey haven. But seriously, ACNH isn't just a pointless digression on my part.
If you love the adorable villagers, then you will love the cute blue bear and bright yellow bird in Fanlee and Spätzle, especially as they offer support for each other through challenging times, including an authentic depiction of Spätzle's transition.
Angela and Sera
Thor and Loki's long-lost sister, Angela, and her lady-lover, Sera, are two of the most kick-ass women in the Marvel Comics canon. Sera is also a trans woman of color — as Angela: Asgard's Assassin's co-writer Kieron Gillen confirmed on Tumblr in 2015 — which Mey on Autostraddle points out is extra special as a canon character in a mainstream Big Two comic.
I'm holding on to the slim hope that Sera will appear in Marvel Studios' Loki, and we will see a revival of this character beyond the pages of Marvel's Voices: Pride #1. But, until then, people should read 1602: Witch Hunter Angela by Marguerite Bennett and Stephanie Hans. It's an alternate-universe tale full of lesbian romance and witch-hunting. Plus, it even has a William Shakespeare cameo.
Meat and Bone 
Pride Month can mean different things for different people, especially for disabled queers like myself. Research suggests that the LGBTQIA+ community faces health disparities linked to societal stigma, discrimination and denial of their civil and human rights, leading to poorer health outcomes.
According to Mental Health America of the MidSouth, "discrimination against LGBTQ people has specifically been associated with high rates of psychiatric disorders, substance use and suicide."
Meat and Bone by Kat Verhoeven is the story of members of our community who are suffering. The storyline mainly focuses on Anne, who is bisexual and wants to be a successful author. However, Anne is beginning to fall back into old habits. In her case, it's anorexia, and it's taking time away from her writing and relationships.
Renegade Rule
Renegade Rule by Ben Kahn, Rachel Silverstein and Sam Beck is a celebration of queer identity and friendship. With multiple queer leads, plus bi and polyamorous rep, this book checks a lot of boxes … and the fact that it does it all while being a fun, hilariously funny read? Flawless victory!
RELATED: Queer Tested, Teacher Approved: 23 Queer YA Genre Books You Need To Read
InSEXts
My go-to recommendation for erotic body horror is a Victorian lesbian horror story, InSEXts by Marguerite Bennett, Ariela Kristantina, Bryan Valenza, Jessica Kholinne and Troy Peteri. The story explores power, rage and sensuality through a lesbian love story ending with the main characters battling the metaphysical representation of society's hatred toward women and their bodies.
How Victorian! InSEXts also reminds me of how far society is willing to go to prove that the LGBTQIA+ community is simply confused about its identity, like the study that proved those billions of gay insects were accidentally having gay sex or something. As Bennett said in her introduction, "to be a woman is to live a life of body horror."
What are your favorite queer comics and queer comic book characters? Let us know in the comments below!
Article written by Rebecca Kaplan
This article was originally published on 6/15/21
Top 10 Favorite LGBTQIA+ TV Couples
Latest posts by Rebecca Kaplan
(see all)