It's been a busy year of film going in 2018. There's been some Star Wars, some Marvel, and even a DC release. As usual, Hollywood gave us no shortage of franchises, sequels and reboots. However, 2018 also shaped out to be a deceptively good year for original cinema. Some of the best movies this year have come from unique and interesting scripts. 
Here are our Top 10 Films of 2018: 
10. A Quiet Place

Ordinarily, I'm not one for horror. In fact, I'm actually kind of a coward. When it hit theaters this summer, A Quiet Place immediately established itself as not only a heck of a horror film, but at the same time, a thoughtful cinematic experiment. In a utilization of a silent form which can only be described as challenging, it still manages to be scary. When you add in beautiful performances by Millicent Simmonds and Emily Blunt, as well as surprise hot dad of the year John Krasinski, you have a truly well-made movie. 
Read My A QUIET PLACE Review Here
9. Black Panther
I will freely admit, I'm not well-read on Black Panther. As such, I wasn't sure what to expect from this movie. Not only did the superhero film establish itself as (likely) the strongest one of the year, but it is also showing the best legs going into awards season. The performances completely won me over, led by Letitia Wright as Shuri, my favorite smart girl to cross movie screens this year, and Michael B. Jordan with what is probably the best Marvel villain in 10 years. More of this please, Marvel.  
Read My BLACK PANTHER Review Here
8. Hearts Beat Loud 
Hearts Beat Loud was almost an after-thought for me. It was one of the last movies I caught at Sundance, trapped in a haze of what can only be described as a crazily long fest. However, it not only won me over, but also emerged as my favorite movie to come out of the chilly February period. Nick Offerman absolutely shines in the movie. I'm not a Parks and Rec viewer, so I was completely surprised to be won over by him. Meanwhile, Kiersey Clemons absolutely steals the show, crafting a character in Sam who's smart, relatable, and isn't afraid to be herself. There's so much to love about this movie, and it left me happy crying the whole way through. 
 Read My HEARTS BEAT LOUD Review Here
7. A Simple Favor
A Simple Favor was a bit of a dark-horse this year. The little Paul Feig directed film hit theaters in the September doldrums, and was given a marketing campaign which can only be described as paltry. It ended up being a sad disservice to a heck of a movie. Pulling back the layers, A Simple Favor manages to be a whip-smart parody on not only Lifetime original movies (men are evil, and will hurt you!), but also a gendered examination of film noir. Bet you'd never think you'd see Anna Kendrick as a lone-wolf private detective, did you? However, Blake Lively is the star of the show, demonstrating just what she can do given the right writing. Here's hoping we get more like this in the future. 
Read My A SIMPLE FAVOR Review Here
6. Can You Ever Forgive Me 

I truly wasn't sure what to expect as I walked into this little drama. While I was loosely familiar with the story of Lee Israel (I read some of her books!), I didn't know what spin the film would be taking. The Marielle Heller directed period drama absolutely stood out as award season kicked-off, showcasing some dynamic character work by not only Melissa McCarthy, but the always delightful Richard E. Grant. The film ends up being not only a emotional and riveting character study, but also a fascinating look at nostalgia in our society. 
Read My CAN YOU EVER FORGIVE ME Review Here 
5. Won't You Be My Neighbor
Bet you didn't think a documentary would make this list, did you? While, the medium is admittedly not my strong suit, Won't You Be My Neighbor stood out as one of the darlings of this summer. The documentary perfectly encapsulated everything Fred Rogers stood for, making him a tremendous star for those of us in the pre-school set during the 1980s and 1990s. The hopeful and emotional documentary had me crying from the opening credits, and it didn't let up until the end. 
4. Mary Queen of Scots 
Once again, Saoirse Ronan makes herself a force to be reconed with come awards season. While the word-of-mouth on Mary Queen of Scots has been depressingly mixed, the feminist take on the titular queen is one which deserves better than it's getting. Not only does Margot Robbie once again slay with a deep and interesting take on Elizabeth I, but director Josie Rourke hands in the best directorial debut of this year. 
Read My MARY QUEEN OF SCOTS Review Here
3. On the Basis of Sex
Like Mary Queen of Scots above, On the Basis of Sex is getting some depressingly mixed word-of-mouth. The film, which spotlights the development of Ruth Bader Ginsberg from first year law student, to lawyer on the rise, is a must see this awards season. Felicity Jones puts forward a career performance, and Armie Hammer absolutely melts your heart as one of the best husbands to grace movie screens. Speaking as someone who almost went to law school, I really wish I could have seen a movie like this as a child. The stories of women like Ruth Bader Ginsberg desperately need to be told, we need female role models, and this is one of the best of 2018. 
2. First Man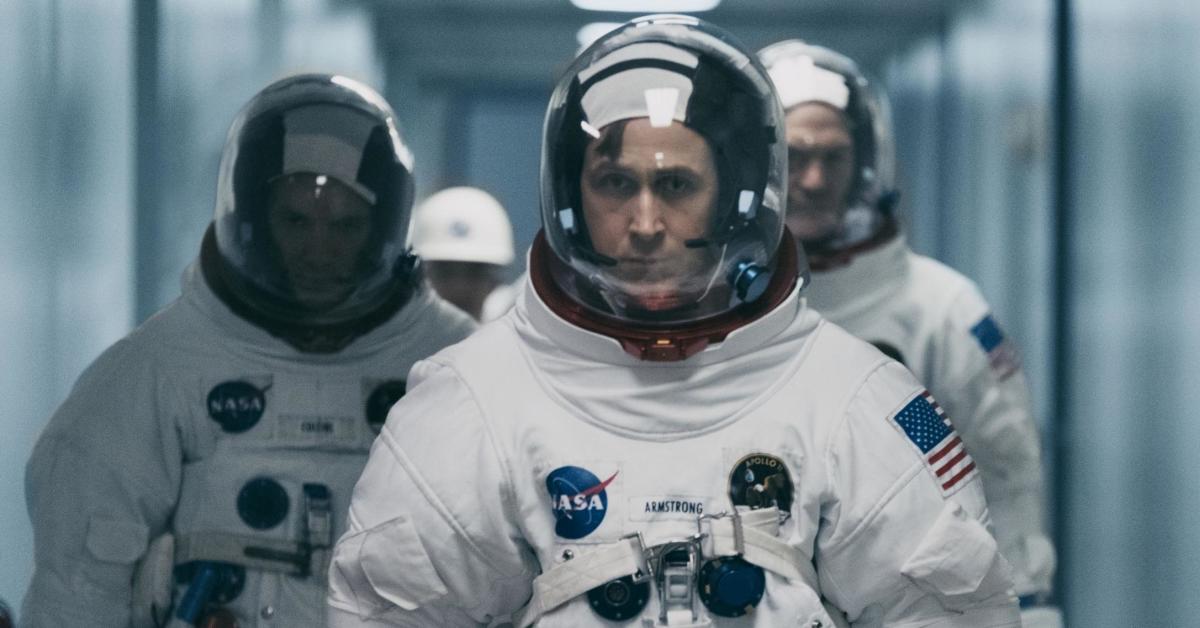 Judge me if you must, but I absolutely love Damien Chazelle. It's a complicated love, I wish I could make that good of movies, but I digress. In First Man, the La La Land director tackles the story of Neil Armstrong, with Ryan Gosling in the starring role. In his hands, Chazelle takes the story of the notoriously private Armstrong, and turns it into a fascinating study in humanity, and more specifically mid-twentieth century gender. The film takes on the masculinity of the post-WWII era, and it becomes heartbreakingly clear how the divide between people affects relationships. The film is a long and largely quiet sit, but it is amazing in it's character introspection. Very rarely have I seen a film say so much through silence.  
1. Bad Times at the El Royale 

Okay… where were you all when this movie hit theaters? Bad Times at the El Royale found itself dropped into the post-summer doldrums, and like A Simple Favor enjoyed a so-so marketing campaign. If you haven't seen it, this movie is so much more than you think it is! That doesn't even involve the Hemsworth abs!! Anyway, writer/director Drew Goddard crafts yet another high-concept film, which deserves a lot more than it received. Fans of Cabin in the Woods should make sure this one is on their list. 
Read My BAD TIMES AT THE EL ROYALE Review Here  
There's been plenty of honorable mentions this year: Mary Poppins Returns, Avengers: Infinity War, The Favoruite and Eighth Grade to name a few. Here's to plenty more entertaining films in 2019! 
What were your favorite films of 2018? 
Latest posts by Kimberly Pierce
(see all)