Fantasy Flight's Letters From Whitechapel could be my favorite game of all time. I love its intensity and the pure battle of wits each play provides. There is no luck, few pieces – and really, no excuses. You win when you outsmart your opponents, you lose when you don't. Here's a link to my review of Whitechapel. Fantasy Flight Games/Asmodee are about to release a new game, Whitehall Mystery, which is very similar to Whitechapel, but takes place in the Whitehall district of London. 
The game is based on the historic morbid discovery of human remains during the building of Scotland Yard in 1888, right around the time that the Jack The Ripper murders were occurring. Even though several body parts of the victim were recovered in various locations, authorities were never able to identify her or solve the crime. In Whitehall Mystery, one player is the murderer (called "Jack" in the rule book). To win, he or she must secretly move to each of the four quadrants of the game map and place a body part in each without being caught. Up to three other players take on the role of the investigators. They will move around the board trying to find clues and ultimately arrest Jack before he places the last body part. 
At the beginning of the game, Jack secretly chooses four spots on the map where the parts will be hidden and records these numbers at the top of his movement sheet. Once the investigators pick their starting locations, Jack then picks one of the four spots he has chosen and places a red marker to indicate his location on the map. At that point the game starts, and Jack has 15 moves to get to another of his four chosen spots without getting caught. Each time Jack reaches one of the chosen spots, the timer resets to 15 moves. Each round Jack will move once (or twice if he uses one of his two carriage tokens) and secretly record his new location on his sheet. Then each of the investigators move, followed by each investigator either looking for clues or making an arrest. The mechanics are almost identical to Letters From Whitechapel. 
RELATED: SHERLOCK HOLMES: CONSULTING DETECTIVE – Asmodee Gives This Classic a New Paint Job (and a Little Work Under the Hood)
So how is Whitehall different? First, the map, even though it still has almost 200 movement spots for each side, feels more claustrophobic than Whitechapel. Also, each investigator has a special power that can be used once in the game. One investigator has a dog that can also be used once in the game to gain additional clues. Jack also gets the option to move by boat in addition to alleys and carriages. Whitehall is a bit more streamlined rules-wise, because there is no mechanic where Jack can lurk and investigators move pawns. In Whitehall, the investigators start each round in the place they finished the previous, and Jack gets no more than 15 moves each round no matter what. All in all, Whitehall takes an already streamlined set of rules in Whitechapel and makes them even tighter. There is zero fluff, and with less players the game should finish faster without losing any of the intensity that Whitechapel brings.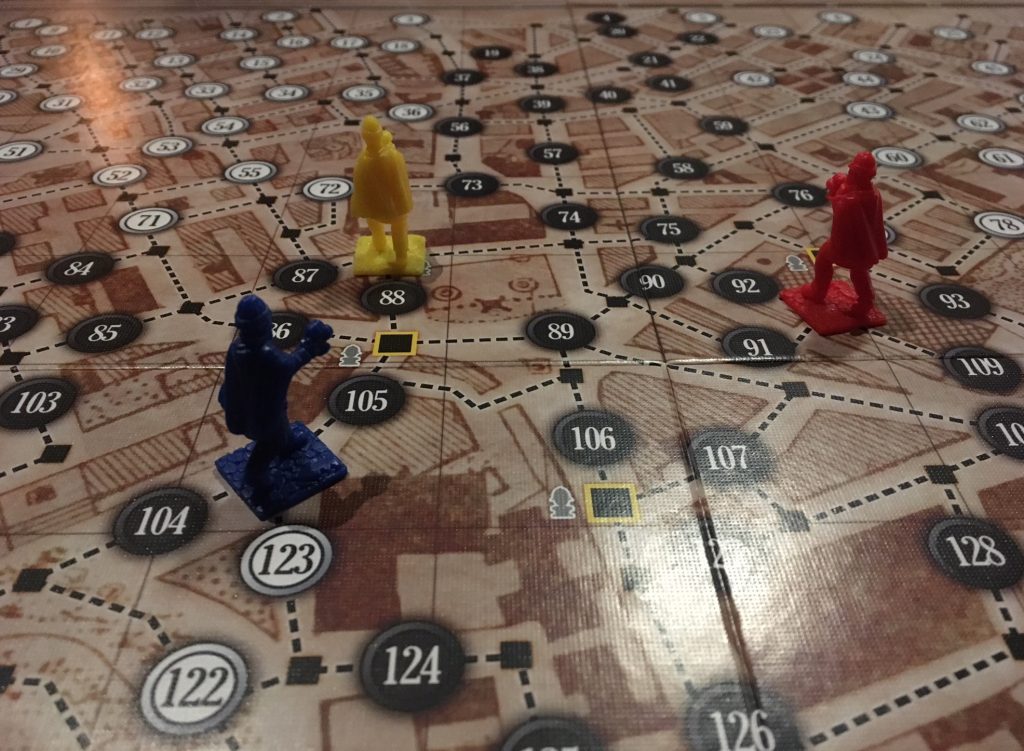 Ultimately, I see Whitehall as Whitechapel's little brother. He may be a bit shorter, but he's still pretty tough and has learned lots of stuff from his older brother. I think both games are different enough to own, but they definitely scratch the same itch. If you've tried neither, you are truly missing out and need to experience the intense gaming joy that each provides. And if you already enjoy Whitechapel, then you'll love the little changes that Whitehall Mystery employs. I'm definitely a big fan.
Thanks for reading, and keep nerding on.
Rob is a board game lover who owns a game shop in central Georgia. He also likes writing articles for us.
Latest posts by Rob Fenimore (see all)